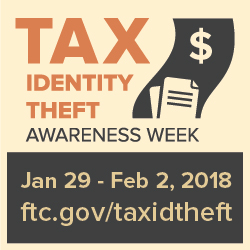 It's tax season and tax identity thieves are eager to claim your tax refund as their own. Find out how to stop them during Tax Identity Theft Awareness Week, January 29-February 2.
The FTC and its partners are hosting free webinars and Twitter chats to talk about tax identity theft, how to reduce your risk, and what to do if it happens to you. Visit ftc.gov/taxidentitytheft to learn how to participate. Here's what's on tap:
In the meantime, the FTC has these tips to fight tax identity theft:
File your tax return early in the tax season, if you can.
Use a secure internet connection if you file electronically, or mail your tax return directly from the post office.
Respond to all mail from the IRS as soon as possible.

If tax identity theft happens to you, visit IdentityTheft.gov to report it to the FTC, file an Identity Theft Affidavit with the IRS electronically, and get a personal recovery plan.
This article by the FTC was distributed by the Personal Finance Syndication Network.